WHAT IS WINDOWS SERVER (2019)? A COMPLETE GUIDE!
Windows Server may be unknown to many consumers. Windows Server is the so-called server operating system from Microsoft. But what exactly does this mean? And what can you actually do with Windows Server? In this article we explain the difference between the well-known Windows and Windows server. And you will discover what you can use Windows Server for!
What is Windows Server?
Chances are that you have never heard of Windows Server. That is why we are happy to explain what it is. Windows Server is an operating system by Microsoft specially developed for servers in business environments. In terms of design, it initially looks a lot like the "standard" Windows version. So it has the same taskbar, Start button and icons. It is even possible to do the same things with Windows and Windows Server. Think of using the Notepad, browsing the internet and saving or changing images. However, there are also major differences between the two operating systems.
Differences between Windows Server and normal Windows
Since Windows Server is developed for companies, it contains numerous enterprise functionalities. This allows Windows Server to perform various actions that are impossible with, for example, Windows 10. An example is Dynamic Host Configuration Protocol (DHCP). This automatically assigns an IP address to all devices on the network. Windows Server can also help organizations to save and share files. The server operating system can be used to determine exactly who has access and which documents can be shared by people within the network. Another useful feature of Windows Server is the ability to configure multiple printers at the same time. As a result, administrators in large organizations save a lot of work and printers can be managed from a central point.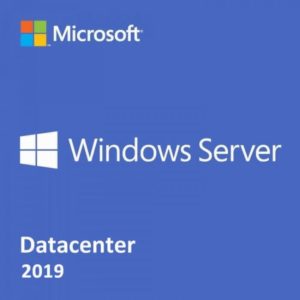 Unlimited possibilities of Windows Server
Windows Server contains even more functionalities that the normal Windows version does not have. For example, Windows Server has hardly any hardware limitations. For example, within Windows 10 it is possible to use a maximum of 2 TB of RAM, an amount that standard users will not need. In Windows Server you can use a maximum of 24 TB RAM, an unprecedented amount. Furthermore, Windows 10 supports two CPU sockets, compared to the 64 processor sockets that Windows Server supports. Although these numbers seem to be extremely high, it is understandable. Countless virtual machines can be active on a server at the same time. Windows Server must support the hardware to make everything run smoothly within the company.
Discover the new Windows Server 2019
Windows Server 2019 is the latest version of this server operating system from Microsoft. It is the successor to Windows 2012 and 2016, and contains numerous additional security options and innovations. It also brings various updates, such as Hybrid Cloud, Application Platform and HCI. You also benefit from the following features and updates:
Admin Center
Windows Admin Center is a locally implemented, browser-based app for managing servers, clusters, hyper-converged infrastructure and Windows 10 PCs. Experience shows that an internet connection and Azure are not required. Windows Admin Center gives you complete control over all aspects of your implementation, including private networks that do not require an internet connection.
Desktop Experience
Windows Server 2019 is an LTSC (long term servicing channel). Most predecessors do not include the Desktop Experience. With this function, your Windows VPS will look like your Windows 7 desktop. The Desktop Experience installs some useful components and functions of Windows 7, such as Desktop theme, Disk Cleanup and Windows Media Player.
System Insights
System Insights is a new feature only available in Windows Server 2019. The feature brings local predictive analysis capabilities to Windows Server. These predictive capabilities, each supported by a machine learning model, analyze system data. They provide insight into how your servers work and help reduce operational costs associated with managing problems in your Windows Server deployments.
Windows Defender ATP
Windows Server 2019 works with Windows Defender ATP. It is a platform for preventive security. The feature reveals memory and kernel attacks. He switches directly from problem (attack) to solution. This functionality is designed to lock the machine against a wide range of attack sectors.
Get started with Windows Server?
Do you want to get started with Windows Server within your organization? Then as a business user you want to trust that the licenses are 100% legal. Therefore choose the original licenses of SoftwareLicense4U. Your licenses are delivered 24/7 via e-mail. You will receive the license and digital download within 5 minutes. You can then immediately start working with Windows Server 2019 within the organization!